Look at that- a Christmas miracle! Someone has given me another award. The first time around I was convinced that one of my internet besties had made an internet error and cut/paste the wrong blog url somewhere. But now that I've received my second award, I'm pretty sure it's just because my blog is off-the-chain magical and gets you VIP service in Hollywood clubs.
Big ups to
Island Gal
for bestowing upon me the You're Going Places Award. Thank you, thank you, and once again I'd like to thank the academy. And by academy, I mean the mountain of parmesan cheese I ate back on 6/25 that obviously wowed the pants off the masses.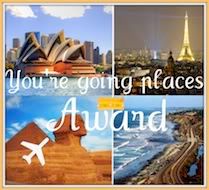 So, the deal with this award is that you have to state where you picture yourself in 10 years. Well, anyone who knows me knows this is actually a hard one because I usually don't even think farther than my next tivo'd episode of Judge Judy. With that said... here's my life forcast...
In ten years, I imagine that I will be paid billions by a creative company who can see past my lack of design degree and hires me because I am rad and bring in baked goods. I will probably have like two kids or something. For sure a daughter (who may or may not be named Moxie Crimefighter)... I MAY be persuaded to birth a son, but don't hold your breathing on that one. I will drive all around town in one of the following badass cars:
I will probably live in the
Monsanto House of the Future
. In between my career and being beautiful, I will drive my kids to ballet recitals and tennis matches because even though they will only be three and four years old, they are child prodigies.
Plastic surgery will have advanced so much by then, I will have completely morphed myself into Zooey Deschanel.


Or at least more like those cute little ajins that look especially darling with their peace sign fingers (and less like the
ajins who sing Whitney Houston songs
).
I will definitely still be blogging but I will totally have at least 56 followers by then. I will also still think the original Nintendo was the best thing ever invented.
Now, time to pass the torch... I am sending my blog love and awards over to...
Allison at
The Adventures of Kiddo and Ramona
Debs at
Fashion Plate
LaceyRee at
This Freckled Lemonade
Erin at
Blogging is for Dorks